The Pursuit of Happiness当幸福来敲门
Basic information
The Pursuit of Happiness (当幸福来敲门时) is a 2006 American biographical drama film, directed by Gabriele Muccino and based on the true story of Chris Gardner. Gardner, the hero of the film, is an on-and-off-homeless salesman-turned stockbroker. The screenplay by Steven Conrad is based on the eponymous best-selling memoir written by Gardner with Quincy Troupe. The film was released on December 15, 2006, by Columbia Pictures. Making his Hollywood debut, Italian director Gabriele Muccino was championed by Will Smith (as Gardner)for the project.
Directed by: Gabriele Muccino
Produced by: Will Smith, Steve Tisch, James Lassiter, Todd Black, Jason Blumenthal
Written by: Steven Conrad
Music by: Andrea Guerra
Cinematography: Phedon Papamichael
Editing by: Hughes Winborne
Studio: Relativity Media, Overbrook Entertainment, Escape Artists
Distributed by: Columbia Pictures
Release dates:
December 15, 2006 (United States)
January 12, 2007 (United Kingdom)
Running time: 117 minutes
Country: United States
Language: English
Color: Color
Genre: Biography Drama
Cast
Will Smith
Will Smith as Chris Gardner
Jaden Smith as Christopher Gardner Jr.
Thandie Newton as Linda Gardner
Brian Howe as Jay Twistle
Dan Castellaneta as Alan Frakesh
James Karen as Martin Frohm
Kurt Fuller as Walter Ribbon
Takayo Fischer as Mrs. Chu
Kevin West as World's Greatest Dad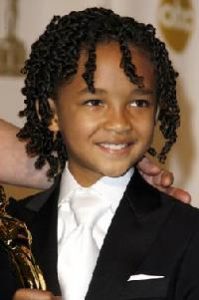 Jaden Smith
George Cheung as Chinese Maintenance Worker (as George K. Cheung)
David Michael Silverman as Doctor at First Hospital
Domenic Bove as Tim Ribbon
Geoff Callan as Ferrari Owner
Joyful Raven as Hippie Girl
Scott Klace as Tim Brophy
Plot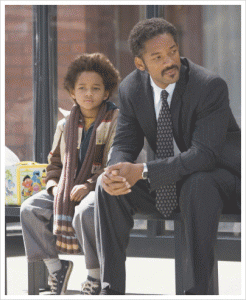 In 1981, in San Francisco, the smart salesman and family man Chris Gardner (Will Smith) invests the family savings in Osteo National bone-density scanners, an apparatus twice as expensive as an x-ray machine but with a slightly clearer image. This white elephant (an idiom for a valuable possession of which its owner cannot dispose and whose cost (particularly cost of upkeep) is out of proportion to its usefulness or worth) financially breaks the family, bringing troubles to his relationship with his wife Linda (Thandie Newton), who leaves him and moves to New York where she has received a job in a pizza parlor. She wishes to take their son Christopher (Jaden Smith) with her, but Chris refuses because they both know that Linda will be unable to take care of him.
Without money or a wife, but committed to his son Christopher, Chris sees the chance to fight for a stockbroker internship position at Dean Witter, offering a more promising career at the end of a six month unpaid training period. During that period, Chris goes through a lot of hardship personally and professionally. When he thinks he is "stable," he finds himself $600 poorer when he is notified that the government has taken out that last bit of money he had in his bank account for his taxes. He is rendered homeless because he is unable to pay his rent. He is forced to stay in a bathroom at a train station and then he is seen scrambling from work every day to the Glide Memorial United Methodist Church, which offers shelter to the homeless. He has to leave work every day so that he is there by 5 in the evening along with his son so to be assured of a place to sleep. He is seen carrying his suitcase to work because he doesn't have a home. At work, there are nineteen other candidates for the one position.
Chris Gardner is also especially talented at solving a Rubik's cube (a 3-D mechanical puzzle). One day, he is called into an office with the heads of Dean Witter. They tell him that he has been a good trainee and ask about him wearing a shirt. Chris responds that since it was the last day he felt he should wear one. This was a reference to his initial interview when he showed up with a t-shirt and jacket because he was just released from jail for unpaid parking tickets. The head of the firm asks him to wear a shirt tomorrow, because it will be his first day as a broker. Chris struggles to hold back tears. His eyes well up and he shakes hands with the partners. He leaves the conference room and grabs his stuff and goes outside. Here he begins to cry as the busy people of San Francisco walk past him. He rushes to his son's daycare and grabs and picks him up, holding him, knowing that everything is going to be all right. A brief scene follows explaining the achievements of Chris Gardner.
After the accolades are presented, the final scene shows Chris walking with his son. His son is telling him a joke, when a man in a suit walks past them. Chris looks back as the man continues to walk on. The man in the suit is the real Chris Gardner.
Production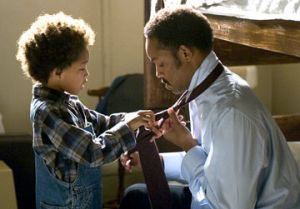 Will Smith wanted Gabriele Muccino to direct this movie after seeing his films L'ultimo bacio (2001) and Ricordati di me (2003). Speedcubing champions Tyson Mao and Toby Mao and Lars Petrus were hired to coach Will Smith to solve a Rubik's Cube in under two minutes. The film was largely shot in San Francisco. A fake BART station was constructed in Duboce Park and removed after filming. The homeless people who worked as extras received a full day's pay at minimum wage ($8.62/hr) and free catered meals. For some it was the first money they'd made in a while. Jaden Smith, who plays Chris Gardner's son, is Will Smith's real-life son. Christopher is Jaden's middle name.
Release
The film debuted at No.1 at the North American box office, earning $27 million during its opening weekend and beating out heavily promoted films such as Eragon and Charlotte's Web. It was Will Smith's sixth consecutive #1 opening. The film grossed $162,586,036 in the US and Canada, nearly three times its production cost, and a further $141,700,000 in other markets, for a total worldwide box office of $304,286,036.
The film was released on DVD on March 27, 2007 and As of November 2007, US Region 1 DVD sales accounted for an additional $89,923,088 in revenue, slightly less than half of which was earned in its first week of release. About 5,570,577 units have been sold, bringing in $90,582,602 in revenue.
Lines
Christopher Gardner: Probably means there's a good chance. Possibly means we might or we might not.
Christopher: Okay.
Christopher Gardner: So, what does probably mean?
Christopher: It means we have a good chance.
Christopher Gardner: And what does possibly mean?
Christopher: I know what it means! It means we're not going to the game.
Christopher Gardner: It was right then that I started thinking about Thomas Jefferson on the Declaration of Independence and the part about our right to life, liberty, and the pursuit of happiness. And I remember thinking how did he know to put the pursuit part in there? That maybe happiness is something that we can only pursue and maybe we can actually never have it. No matter what. How did he know that?
Christopher: Hey dad, you wanna hear something funny? There was a man who was drowning, and a boat came, and the man on the boat said "Do you need help?" and the man said "God will save me". Then another boat came and he tried to help him, but he said "God will save me", then he drowned and went to Heaven. Then the man told God, "God, why didn't you save me?" and God said "I sent you two boats, you dummy!"
Mistakes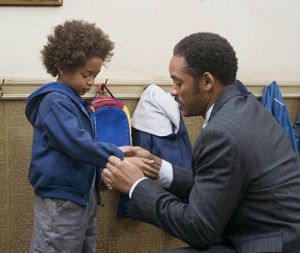 When Chris chases after Hippie Girl in the BART station, he looks from the gate area down to the train platform. Hippie Girl stands next to a BART train that displays a "#1 Transit System in America" decal just to the left of the door. After he runs down to the platform and bangs on the closed train door, the decal is missing.
When Chris gets into the car after the football game, the bone scanner isn't in his lap. In the next shot, it is sitting on his lap.
At the subway, Christopher is sitting on the bench with his legs crossed, showing the soles of his sneakers. They are clean, as if they were brand-new.
When little Chris' mother carries him in the bedroom and puts him in bed, he is supposed to be asleep. However, he lifts both of his legs up to avoid the side of the bed.
Reception
Critical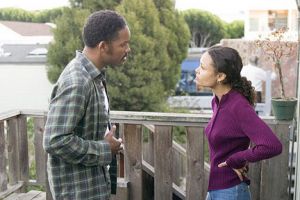 "The great surprise of the picture is that it's not corny. The beauty of the film is its honesty. In its outlines, it's nothing like the usual success story depicted onscreen, in which, after a reasonable interval of disappointment, success arrives wrapped in a ribbon and a bow. Instead, this success story follows the pattern most common in life — it chronicles a series of soul-sickening failures and defeats, missed opportunities, sure things that didn't quite happen, all of which are accompanied by a concomitant accretion of barely perceptible victories that gradually amount to something. In other words, it all feels real."
—San Francisco Chronicle, Mick LaSalle
"a fairy tale in realist drag . . . the kind of entertainment that goes down smoothly until it gets stuck in your craw . . . It's the same old bootstraps story, an American dream artfully told, skillfully sold. To that calculated end, the filmmaking is seamless, unadorned, transparent, the better to serve Mr. Smith's warm expressiveness . . . How you respond to this man's moving story may depend on whether you find Mr. Smith's and his son's performances so overwhelmingly winning that you buy the idea that poverty is a function of bad luck and bad choices, and success the result of heroic toil and dreams."
—Manohla Dargis of The New York Times
"Dramatically it lacks the layering of a Kramer vs. Kramer, which it superficially resembles . . . Though the subject matter is serious, the film itself is rather slight, and it relies on the actor to give it any energy. Even in a more modest register, Smith is a very appealing leading man, and he makes Gardner's plight compelling . . . The Pursuit of Happyness is an unexceptional film with exceptional performances . . . There are worse ways to spend the holidays, and, at the least, it will likely make you appreciate your own circumstances."
—Kevin Crust of the Los Angeles Times stated
Filmgoers
I was fortunate to see this movie in a screening. I really enjoyed it, and felt that it lived up to the teary and heartwarming trailer. While the movie has an uplifting "go for your dreams" message, the deepest theme is that of family.
The story is very touching and was close to home for me. My family has been through some tough times, and this movie just reminded me of how much my parents struggled to provide for our family and yet kept life fun as much as they could. I am excited to go see this with my parents as a way to say thank you.
Honors
Nominations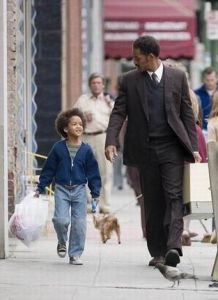 Oscar (Academy Awards, USA)
Best Performance by an Actor in a Leading Role, Will Smith
Black Reel Awards
Best Actor, Will Smith
Best Breakthrough Performance, Jaden Smith
Best Film
Golden Globes, USA
Best Original Song - Motion Picture, Seal (music/lyrics), Christopher Bruce (music)
Best Performance by an Actor in a Motion Picture - Drama, Will Smith
Image Awards
Outstanding Actor in a Motion Picture, Will Smith
Outstanding Supporting Actor in a Motion Picture, Jaden Smith
Outstanding Supporting Actress in a Motion Picture, Thandie Newton
Teen Choice Awards
Choice Movie: Breakout Male, Jaden Smith
Awards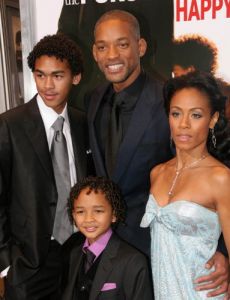 ASCAP Film and Television Music Awards
Top Box Office Films, Andrea Guerra
Capri, Hollywood
Movie of the Year
Image Awards
Outstanding Motion Picture
MTV Movie Awards
Breakthrough Performance, Jaden Smith
NRJ Ciné Awards
International Star of the Year, Will Smith
Phoenix Film Critics Society Awards
Best Performance by a Youth in a Lead or Supporting Role - Male, Jaden Smith
Teen Choice Awards
Choice Movie Actor: Drama, Will Smith
Choice Movie: Chemistry, Will Smith, Jaden Smith
Choice Movie: Drama
Related link
词条内容仅供参考,如果您需要解决具体问题
(尤其在法律、医学等领域),建议您咨询相关领域专业人士。