Erin Brockovich 永不妥协
Background

post
Erin Brockovich is a 2000 drama film which dramatizes the story of Erin Brockovich's legal fight against the US West Coast energy corporation Pacific Gas and Electric Company (PG&E). The film was directed by Steven Soderbergh and starred Julia Roberts, who won the Academy Award, Golden Globe, Screen Actors' Guild Award and BAFTA for Best Actress. It is based on a true story, and the real Erin Brockovich has a cameo appearance as a waitress named Julia.
Plot
picture
Erin Brockovich (Julia Roberts) was an unemployed single mother of three children who, after losing a personal injury lawsuit against a doctor in a car accident she was in, asks her lawyer, Edward L. Masry (Albert Finney), if he can find her a job in compensation for the loss. Ed gives her work as a file clerk in his office, and she runs across some files on a pro bono case involving medical records in real-estate files and PG&E offering to purchase the home of Hinkley, California resident Donna Jensen.

Erin begins digging into the particulars of the case, convinced that the facts simply do not add up, and persuades Ed to allow her further research. After investigation, she discovers a systematic cover-up of the industrial poisoning (hexavalent chromium) of the town of Hinkley's water supply that threatens the health of an entire community. She finds that PG&E is responsible for the extensive illnesses that the residents of Hinkley have been diagnosed with and fights to bring the company to justice.

Erin meets a mysterious man in a bar who claimed to Erin to have destroyed documents at PG&E, and discovers a 1966 document that ties a conversation of a corporate executive in the San Francisco PG&E headquarters to the Hinkley station that knew the water was contaminated but didn't do anything about it and advised to keep it a secret from the Hinkley neighborhood. The evidence was examined by a judge without a jury and PG&E was ordered to pay a settlement amount of $333 million that was divided among the 634 plaintiffs.
Cast
picture
Julia Roberts as Erin Brockovich
Albert Finney as Edward L. Masry
Aaron Eckhart as George
Marg Helgenberger as Donna Jensen
Tracey Walter as Charles Embry
Peter Coyote as Kurt Potter
Cherry Jones as Pamela Duncan
Conchata Ferrell as Brenda
Erin Brockovich-Ellis as Julia, the waitress
Carey Crooker
Development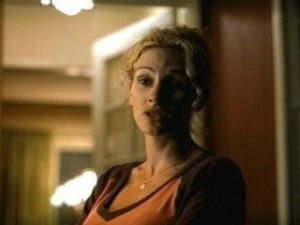 picture
According to Stacey Sher, one of the film's producers, when they were attempting to locate financing for the film they had the real Erin Brockovich pitch her life story to an unnamed movie studio executive who yawned in the middle of her pitch. One of the film's executive producers, Carla Shamberg said, "I'm sorry. Are we keeping you awake?"
Erin Brockovich performed well with test audiences but executives at Universal Pictures were worried that audiences would be turned off by the title character's use of profane language.
Reaction
Box office
Erin Brockovich was released on March 17, 2000 in 2,848 theaters and grossed $28.1 million on its opening weekend. It went on to make $125.6 million in North America and $130.7 million in the rest of the world for a worldwide total of $256.3 million.
Reviews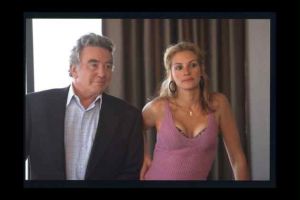 picture
The majority of critics responded favorably towards the film. It holds a certified "Fresh" rating of 83% on film review website Rotten Tomatoes and 73 metascore on Metacritic. In his review for The New York Observer, Andrew Sarris wrote, "We get the best of independent cinema and the best of mainstream cinema all in one package. Erin Brockovich, like Wonder Boys right before it, makes the year 2000 seem increasingly promising for movies". Newsweek magazine's David Ansen began his review with "Julia Roberts is flat-out terrific in Erin Brockovich". Furthermore, he wrote, "Roberts has wasted her effervescence on many paltry projects, but she hits the jackpot this time. Erin, single mother of three, a former Miss Wichita who improbably rallies a community to take on a multi-billion-dollar corporation, is the richest role of her career, simultaneously showing off her comic, dramatic and romantic chops". Rolling Stone magazine's Peter Travers wrote, "Roberts shows the emotional toll on Erin as she tries to stay responsible to her children and to a job that has provided her with a first taste of self-esteem".In his review for Entertainment Weekly, Owen Gleiberman gave the film a "B+" rating and wrote, "it's a delight to watch Roberts, with her flirtatious sparkle and undertow of melancholy, ricochet off Finney's wonderfully jaded, dry-as-beef-jerky performance as the beleaguered career attorney who knows too much about the loopholes of his profession to have much faith left in it".Sight and Sound magazine's Andrew O'Hehir wrote, "Perhaps the best thing about this relaxed and supremely engaging film (for my money the best work either the director or his star has ever done) is that even its near-fairytale resolution doesn't offer a magical transformation". In her review for the Village Voice, Amy Taubin wrote, "What's pretty original about the picture is that it focuses an investigative drama based on a true story around a comic performance".
However, film critic Roger Ebert gave the film a two-star review, wrote, "There is obviously a story here, but Erin Brockovich doesn't make it compelling. The film lacks focus and energy, the character development is facile and thin". In his review for The New York Times, A.O. Scott wrote, "After proving, for about 40 minutes, what a marvelous actress she can be, Ms. Roberts spends the next 90 content to be a movie star. As the movie drags on, her performance swells to bursting with moral vanity and phony populism". Time magazine's Richard Corliss found the film to be "slick, grating and false. We bet it makes a bundle".

Awards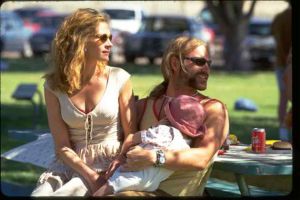 picture
Erin Brockovich received numerous awards. The National Board of Review, the Los Angeles Film Critics Association and the Broadcast Film Critics Association voted Julia Roberts best actress of the year.The National Society of Film Critics voted Steven Soderbegh best director for his work on both Traffic and Erin Brockovich.
Erin Brockovich received four Golden Globe nominations including Best Dramatic Motion Picture, Best Dramatic Motion Picture Actress (Roberts), Best Director (Soderbergh) and Best Supporting Actor (Albert Finney). It won only one award for Best Dramatic Actress. The film received five Academy Award nominations including Best Picture, Best Director (Soderbergh), Best Actress (Roberts), Best Supporting Actor (Finney), and Best Original Screenplay (Susannah Grant). Roberts won Best Actress, the only Academy Award the film received. However, Soderbergh lost out to himself for his work on the film, Traffic.
Flash
外部链接
1,在线观看 http://v.youku.com/v_show/id_XOTAzNzkwMTY=.html
http://kan.pps.tv/play/261770.html
2,中文版简介 百度百科 http://baike.baidu.com/view/532327.htm
互动百科 http://www.hudong.com/wiki/%E3%80%8A%E6%B0%B8%E4%B8%8D%E5%A6%A5%E5%8D%8F%E3%80%8B
词条内容仅供参考,如果您需要解决具体问题
(尤其在法律、医学等领域),建议您咨询相关领域专业人士。