奥运医疗英语用语
奥运医疗用语
Unit 1
Handy Basic Medical Expression for Olympic Games
经典奥运医护用语十句
1.What's wrong with you? 2.Let me have a look.
1.怎么不舒服? 2.让我看看.
3.How long has this been going on?
这种情况多久了?
4.That's what caused your problem.
这就是问题所在.
5.Don't worry,it's not serious.
别担心,并不严重.
6.You'll be better soon.
你很快就会好的.
7. I'll give you some medicine to take.
我给你开些药.
8. Take this medicine three times a day.
一日三次服药.
9. You'd better rest as much as possible.
你最好多休息.
10.By the way,are you here for the Olympic Games?Good luck.
顺便问一句,你是到这儿参加奥运会的吗?祝你好运!
This is the end of unit 1.
Unit 2
Medical Topics for Olympic Games
医务人员奥运用语17题
Part 1 Registering
挂号
1. This is the line for registration.
这是挂号的队.
2. What's the problem?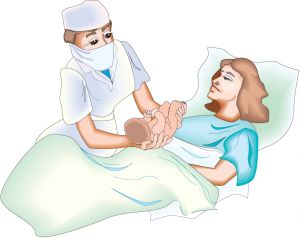 奥运医疗英语

怎么不舒服?
3. How long have you had that problem?
这种情况多久了?
4.Then,you'd better go to the Medical Department.
那么,你最好去看内科.
5.Take the lift to the third floor and then go along the corridor
乘电梯上三层,沿走廊走,
until you see the sign on your right.
然后你会看到右边有牌子
II. Dialogues
对话
A: Patient B: Nurse
Dialogues (1)
A: (to a nurse)Excuse me,where do I go to register?
请问,在哪儿挂号?
B:Go straight on and then turn right.You'll see a window there.
往前走,然后向右拐,你会看到那边有一个窗口
A:Thank you very much. B:You are welcome.
谢谢. 不客气.
A: (to a nurse)Excuse me,where do I go to register?
请问,在哪儿挂号?
B:Go straight on and then turn right.You'll see a window there.
往前走,然后向右拐,你会看到那边有一个窗口.
A:Thank you very much. B:You are welcome.
谢谢。 不客气.
Dialogues (2) A:Excuse me,is this the line for registration?
请问,这是挂号的队吗?
B:(pointing to the line) No,that is the line for it.
(指着挂号的队)不是,那才是挂号的队.
A:Thank you.B:You are welcome.
谢谢. 不客气.
A:Excuse me,is this the line for registration?
请问,这是挂号的队吗?
B:(pointing to the line) No,that is the line for it.
(指着挂号的队)不是, 那才是挂号的队.
A:Thank you. B:You are welcome.
谢谢. 不客气.
Dialogues (3) B:Good morning. A:Good morning.
你好. 你好.
B:What's the problem?
你怎么不舒服?
A:I'm running a high fever and feeling terribly bad.
我发着高烧,觉得很难受.
B:How long have you had that problem?
这种情况有多久了?
A:Since last night.
从昨天夜里开始的.
B:Then,you'd better go to the Medical Department.
那你最好去看内科.
But first,you should fill in this registration card.
不过,你应该先挂号,
and the registration fee is one yuan.
挂号费一元.
A:Fine.But can you tell me how to get to the Medical Department,please?
好,不过,你能告诉我去内科怎么走吗?
B:Take the lift to the third floor
and then go along until you see the sign on your right
乘电梯到三层,然后沿着走廊走,你会看到右边的牌子.
A:Thanks a lot. B:You're welcome.
谢谢. 不客气.
Good morning. Good morning.
你好. 你好.
What's the problem?
你怎么不舒服?
I'm running a high fever and feeling terribly bad.
我发着高烧,觉得很难受.
How long have you had that problem?
这种情况有多久了?
Since last night.
从昨天夜里开始的.
Then,you'd better go to the Medical Department.
那你最好去看内科.
But first,you should fill in this registration card
不过,你应该先挂号,
and the registration fee is one yuan.
挂号费一元.
Fine.But can you tell me how to get to the Medical Department,please?
好,不过,你能告诉我去内科怎么走吗?
Take the lift to the third floor
and then go along until you see the sign on your right
乘电梯到三层,然后沿着走廊走,你会看到右边的牌子.
Thanks a lot. You're welcome.
谢谢. 不客气.
This is the end of part 1
Part 2 Emergency
急诊
1. What can I do for you?
我能为你做些什么?
2.There is a cut but luckily it's not deep.
破了个口子,不过,幸运的是不太深.
3.First,I'll clean up the wound and then we're going to dress it.
我先清洗伤口,然后把伤口包扎起来.
4.I'm afraid I'll have to give you some stitches.
恐怕我得给你缝几针了.
5.Come back in a week and I'll take your stitches out.
一周以后再来,我给你拆线.
II. Dialogues
(1) A: Patient; B: Nurse
Dialogues (1)
A:Excuse me,where is the Emergency Room?
请问,急诊室在哪儿?
B:Go straight on,it's at the end of the corridor.
往前走,在走廊尽头.
A:Thanks a lot. B:You're welcome.
多谢. 不客气.
A:Patient; B:Nurse A:Excuse me,where is the Emergency Room?
请问,急诊室在哪儿?
B:Go straight on,it's at the end of the corridor.
往前走,在走廊尽头.
A:Thanks a lot. B:You're welc
多谢. 不客气.
Dialogues (2) A:Patient B:Doctor A:Good afternoon,Doctor.
你好,大夫.
B:Good afternoon. What can I do for you?
你好,我能为你做点什么?
A:I'm an athlete for the Olympic Games here.
我是奥运会运动员.
About half an hour ago I fell on the ground and hurt my leg.It bled a lot.
大约半小时前,我摔倒在地,把腿摔破了流了很多血.
B:Let me have a look.You're very lucky because the cut is not deep.
让我看看.你很幸运,伤口并不深.
First,I'll clean up the wound and then dress it.
我先给你清洗伤口,再把它包扎起来.
A:Must I stop all my training?Will I be able to attend the games?
我要停止所有的训练吗? 我还能参加比赛吗?
B:Take it easy.It's not serious.You should keep the wound very clean.
别紧张,并不严重.要保持伤口的清洁.
Don't do strenuous exercises until your wound is healed.
伤口愈合前,不要做剧烈运动.
A:Thank you very much,doctor.
谢谢你,大夫.
B:Not at all.You'll be OK soon.
不客气.你很快就会好的.
A:Good-bye. B:Good-bye.
再见. 再见.
A:Patient B:Doctor A:Good afternoon,Doctor.
你好,大夫.
B:Good afternoon. What can I do for you?
你好,我能为你做点什么?
A:I'm an athlete for the Olympic Games here.
我是奥运会运动员.
About half an hour ago I fell on the ground and hurt my leg.It bled a lot.
大约半小时前,我摔倒在地,把腿摔破了流了很多血.
B:Let me have a look. You're very lucky because the cut is not deep.
让我看看.你很幸运,伤口并不深.
First,I'll clean up the wound and then dress it.
我先给你清洗伤口,再把它包扎起来.
A:Must I stop all my training?Will I be able to attend the games?
我要停止所有的训练吗? 我还能参加比赛吗?
B:Take it easy.It's not serious.You should keep the wound very clean.
别紧张,并不严重.要保持伤口的清洁.
Don't do strenuous exercises until your wound is healed.
伤口愈合前,不要做剧烈运动.
A:Thank you very much,doctor
谢谢你,大夫.
B:Not at all.You'll be OK soon.
不客气.你很快就会好的
A:Good-bye. B:Good-bye.
再见. 再见.
Dialogues (3) A: Doctor, B:Patient
A:Come in please.There seems to be something wrong with your arm.
请进,看来你的胳膊受伤了.
B:Yes.There's a deep cut and it hurts a lot.
是的,我的胳膊破了一个很深的口子,疼得很.
A:It is a very deep cut.I'm afraid I'll have to give you some stitches.
口子很深. 恐怕我得给你缝几针了.
B:When should I come back to have my stitches out?
我什么时候来拆线?
A:Come back in a week and I'll take them out.
一周后来拆线.
B:OK.Thank you,Doctor. A:Take care.
好吧.谢谢,大夫.多保重.
3) A: Doctor, B:Patient
A:Come in please.There seems to be something wrong with your arm.
请进,看来你的胳膊受伤了.
B:Yes.There's a deep cut and it hurts a lot.
是的,我的胳膊破了一个很深的口子,疼得很.
A:It is a very deep cut.I'm afraid I'll have to give you some stitches.
口子很深. 恐怕我得给你缝几针了.
B:When should I come back to have my stitches out?
我什么时候来拆线?
A:Come back in a week and I'll take them out.
一周后来拆线.
B:OK.Thank you,Doctor. A:Take care.
好吧.谢谢,大夫. 多保重.
This is the end of Part 2
外部链接
音频下载链接
Unit1
http://ishare.iask.sina.com.cn/f/10310128.html
unit2
http://ishare.iask.sina.com.cn/f/10311303.html
http://ishare.iask.sina.com.cn/f/10311622.html
词条内容仅供参考,如果您需要解决具体问题
(尤其在法律、医学等领域),建议您咨询相关领域专业人士。